| | | | |
| --- | --- | --- | --- |
| Login | | | Don't have a GTribe account? |
Register
Welcome to Gaming Tribe! Fill out this registration form to create your Gaming Tribe account.
Do not use all upper or lowercase.
Do not abbreviate your name or skip a name field. Use only your long-form residential address. A confirmation will be sent to the email address you provide us. We will not share, disclose or display your address, email, or phone number. Once your account is completed make sure to login to adjust your privacy settings and add a profile photo.
Fields marked with an asterisk (*) are required.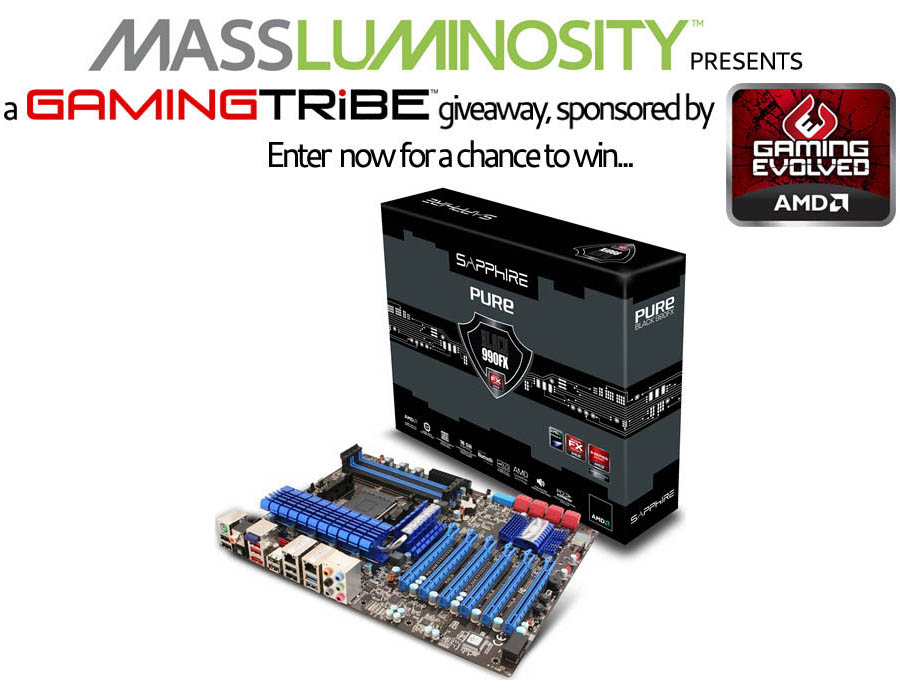 The PURE Black Giveaway is CLOSED!

The SAPPHIRE PURE Black 990FX is a full ATX sized board making full use of the features of the AMD 990FX and SB850 chipsets. Four dual channel memory sockets are provided, supporting up to 16GB of DDR3 memory with current technology, and capable of supporting up to 32GB when suitable modules become available. There are four USB 3.0 ports (two at the rear and two on a header supported by a high quality front panel kit) as well as eight USB 2.0 ports on the rear panel plus four more on a header.

Advanced connectivity is provided by Dual Gigabit LAN sockets plus Bluetooth with EDR (enhanced data rate). The board has eight SATA 3GB ports, featuring AHCI and RAID support, conveniently mounted on the edge of the board with right angle connectors and an additional SATA 3GB port brought out to the rear panel on an eSATA connector. The back panel also carries optical and SPDIF outputs as well as the standard I/O configuration for the on board HD 7.1 Audio.

Extensive expansion support is provided by six PCI-Express Gen2 slots which allow up to six single slot cards or three dual slot cards such as high end graphics cards in CrossFireX to be used. A standard 4-pin molex connector on the edge of the board can be used to provide additional power when multiple cards are used.

Each SAPPHIRE 990FX PURE Black motherboard is valued at $160.

Here are the two lucky winners of the PURE Black Giveaway:
Russell Grimes - Willinston, Florida, USA
Mike Nguyen - Virginia Beach, Virginia USA

©2012 Gaming Tribe. All Rights Reserved.